Mom-Owned Stores — Handmade Children's Clothes
Are you a mom with a store to promote? Let us know and we'll add your site.
liliputians NYC
Liliputians boutique clothing is lovingly hand crafted to custom perfection in NYC. All designs are heirloom-quality and limited editions. For hip babies, little girls & boys, and mommies too!
Get the Inside Scoop about "liliputians NYC".
Francella's Boutique Designs
FBD offers high-quality custom made boutique wear and accessories for your little one. All designs are custom sized, unless otherwise noted in the product description. From the European inspired designs, to the traditional: a one-stop shop for your boutique needs!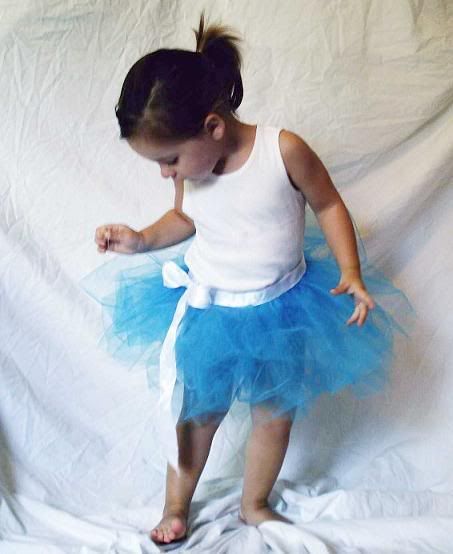 Tutu Fantasy
Tutu Fantasy specialize in handcrafted tutus, unique costumes and ballerina dancewear.
Get the Inside Scoop about "Tutu Fantasy".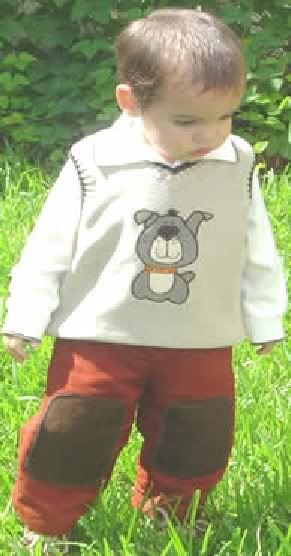 Comfy Crawlers
Comfy Crawlers, padded pants for crawling babies.
Crawling is a major milestone for your baby. Suddenly that stationary bundle of joy becomes a mobile whirl of energy! These amazing pants, created by Marina Westerdahl of Gissy Bella, celebrate this exciting stage of development.
Cushy, handsome pads protect baby's knees, and padded back pockets provide a nice buffer for falls on the bum.
The fabric is a dreamy suede-like material that is both beautiful and wears well, not to mention downy soft against baby's skin. Truly a brilliant design; all crawling babies should have one of each gorgeous color. http://www.gissybella.com $39.95
Get the Inside Scoop about "Comfy Crawlers".
Baby G
The newest in hip, funky children's clothes for Infants & Toddlers, Baby G offers infant clothing and children's fashions for the youngest trend setters around. Sweatshop free, made in the USA, organic cottons and many more…whether your shopping for someone else or your own, you're sure to find something special at our children's boutique!
Get the Inside Scoop about "Baby G".
Kaboodle Kids
Fun Fashions From Afar! Kaboodle Kids is an online boutique featuring unique South African children's clothes from Bug Zoo and Hooligans Kids. Bug Zoo's children's clothes capture the imagination of young boys and girls through a bug theme. Hooligans kids clothes capture the adventure of Africa through the wildlife as seen through a child's eyes. We've selected brands of exceptional quality, with natural child-friendly fabrics, stitching and design.
We have personally determined to give 10% of our sales proceeds to Feed The Children, a U.S. based non-profit that works with disadvantaged and/or disaster affected children worldwide. Amongst other countries, they work in South Africa, where are clothes are manufactured and for which we feel a particular interest by supporting an abandoned baby center in Kenya through our contributions.
Get the Inside Scoop about "Kaboodle Kids".
Francoise Lama-Solet
I offer high quality boutique clothing for babies and children. You will find custom made designs, offered in several sizes, and also one of a kind designs. Looking for French / European style ???… This is the place to shop! .
Valleybrook Farm
Valleybrook Farm sells unique, handcrafted boutique children's clothing for girls and boys. Our clothing is as comfortable as it is beautiful. Offers designs for infants through teens. Honoring the spirit of childhood.
DJ Baby Clothing
Hand painted denim, bloomers and gifts for children and adults. Featuring the Infertility T shirt collection. These limited edition T's raise awareness about infertility, as well as funds for RESOLVE: The National Infertility Associaton. http://www.djbabyclothing.com/35601/index.html

My Pink Zebra Boutique
The Pink Zebra Boutique is located in Katy,Texas, and the online boutique can be found at http://www.MyPinkZebraBoutique.com. Both sites feature over 15 independent designers, most of whom are also moms, of custom boutique items. Some of these amazing items include:
Pageant Wear
Baby, Boys, Girls, & Women's clothing
Boutique Bows, Headbands, & Hats
Boutique Purses & Handbags
Handmade Jewelry
Baby Shower Gifts & Home Decor
MyPinkZebraBoutique.com is the most complete, handmade boutique online. If you are looking to stand out in a crowd, The Pink Zebra Boutique is the place for you!
Coral Camellia
Unique, handmade baby and toddler girls fine apparel with a modern twist. Also features handknit toys and blankets as well as handcrafted children's jewelry.
Get the Inside Scoop about "Coral Camellia".
Tutu Cute
Because every little girl should be Tutu Cute! Beautiful and whimsical tutus for your princess ballerina. Our Cadence Collection outfits are unique and allows your Diva, Princess, or Birthday Girl to express their style. The Garden Fairy Collection is filled with sweet, colorful tutus.
All Tutu Cute tutus are made of high quality nylon tulle, which is fire retardent. All materials and embellishments are made in the USA. Tutu Cute is proud to be Made In The USA.
Get the Inside Scoop about "Tutu Cute".
Retro Rugrats
Handmade vintage and classic style clothing and accessories for babies and children.
Get the Inside Scoop about "Retro Rugrats".
Buquis
http://www.buquis.net is a line of handmade children's clothing and home accessories that are useful, fun and cheerful. Form and function working together. Quality is key in the materials and workmanship. At the core of the line are Bibs, Smocks, Aprons, Placemats, Play Mats, Changing Pads, Diaper Bags made from colorful supple mexican oil cloth with soft Afelpado backing and trimmed in bright contrasting colors. Our most recent products are 100% organic cotton Onesies. They are colorful and each has a unique applique design. Buquis idea is to bring a little our colorful Mexico into you home.
Get the Inside Scoop about "Buquis".
Fantaisiekids
Hand beautiful couture for infants, toddlers, and children. Timeless designs with intricate hand smocking and embroidery. Exquisite Christening Gowns, Special Occasion Dresses, Upscale casualwear, and Designer nursery/accessories that your little ones will cherish throughout the years. Other brands include JP Lizzy, Bebe au Lait, Serena and Lily, New Arrivals, Noodle & Boo, Bloomers Baby, and many more…all favorites among celebrity moms!
Shop at http://www.fantaisiekids.com.
Get the Inside Scoop about "Fantaisiekids".
Hoot Baby– Beautiful Clothing for Children
Hoot Baby Designs is the spot to find handmade clothes for children. Our clothing is one-of-a-kind, and is designed to showcase beautiful children in beautiful fabrics. Many of our designs are vintage-inspired, and our line runs from the fanciful to the funky.
Our story begins where so many others have– at the dining room table. When my children were born, I began to realize how much fun it was to create for them. And pretty soon, people began asking me to create for their children, too, and Hoot Baby was born. We currently offer an on-line collection for girls, and will offer a full line of girl and boy clothing at in-home Trunk Shows in the fall of 2009. Visit our website to purchase clothing, or for more information on hosting a Trunk Show in your home!
Get the Inside Scoop about "Hoot Baby– Beautiful Clothing for Children".
www.ladybugstitchesonline.com
Here at href="http://www.ladybugstitchesonline.com">Ladybug Stitches you will find Unique Handmade Children's clothing, gifts and accessories. From baby gifts to teacher gifts, our store has lots to offer, including monogramming!
Here at Ladybug Stitches, we take pride in our handmade personalized items. Most items are handmade to order. There's always something new! So keep checking out our store. If you don't see what you are looking for just contact us. New ideas & customized orders are welcome!
We value our customers and want to thank each person who has made this business a success. Ladybug Stitches would still be a dream if it wasn't for our wonderful customers. Please contact us if you have any questions.
Tell your friends!!!
moms save
Moms Save offers trendy fun outfits N dresses for
little girls in sizes 6mos. to 10
you can save 40% off your 1st order
just email me with your order and I'll remove 40% off the price
I also offer more ways to save
cragan5067@bellsouth.net
Get the Inside Scoop about "moms save".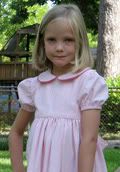 www.littleliebling.com
Are you looking for the perfect gift for a little darling girl or boy?
little Liebling is the right place for you!
We offer custom-designed and handmade nostalgic children's clothing as well as practical and fun accessories inspired by our German heritage. All our products can be mixed and matched and are great gifts for baby showers, birthdays, religious
celebrations, or other special occasions.
Posh Baby Boutique Store
Welcome to Posh Baby Boutique Store! We have updated our site design! We are so excited to be able to bring you the best Store Online! We have great Styles for Kids! Looking for a unusual, handmade, or stylish items? Seeking a large Collection of Baby Clothing (Clothes) for your child? You have come to the Right Place! Get all your Baby's needs here and Gifts for Mom's too! I Support a large Network of Mom Designers whose Hand Crafted work I sell In my Store.
I believe in supporting our Mom's who make hand crafted baby items as a way to help their business's efforts as well as providing your child the best quality product some items are organic and some are not. Need a Tutu or Pettiskirt go here to see the large collection of them:
http://www.poshbabystore.com/category_417/LITTLE-GIRL-.htm
Time & Again Pillowcase Dresses & Aprons
I sell vintage & antique pillowcase dresses made from genuine pillowcases. I also sell (a href="http://www.timeandagainshop.com/category_41/CHILD-APRONS.htm"> child aprons from a heavy cotton fabric (and in adult sizes too), lovie blankets made from super soft flannel and chenille with lots of fun, colorful ribbons and I-Spy bags to keep little hands busy.
Get the Inside Scoop about "Time & Again Pillowcase Dresses & Aprons".